Swim Lessons San Diego sends highly qualified swimming instructors to your home pool to teach private swim lessons. We also offer adult swim lessons at our location Downtown. We teach all abilities ages 2 years and up!
At-home Swim Lessons
Private or Semi-private Swim Lessons
Toddler Swim Lessons
Kids Swim Lessons
Adult Swim Lessons: Beginners, Fitness Swimming, Triathlon Training, special services such as the Navy
Special Needs Swim Lessons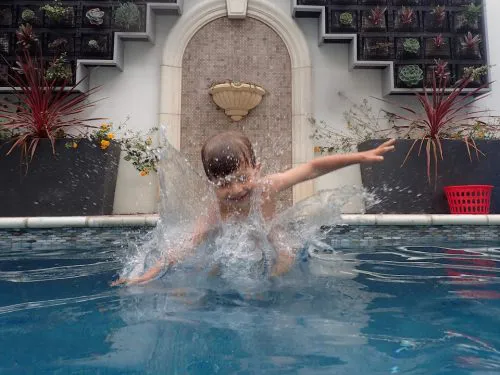 THE BENEFITS OF PRIVATE SWIM LESSONS
What makes our private swim lessons better than group lessons? Faster results in less time. Complaints of group lessons? Lack of one-on-one attention, which leads to inattention and little practice time with constructive feedback.
Our private swim lessons individualize instruction for the needs and goals of each student as well as provide practice time and feedback 100% of the time. We have a track record for helping people who are afraid of the water overcome their fear. We are a leader in swim lessons because we know how to adapt and modify instruction for all types of learners and we give each student exactly what they need to move forward at an appropriate pace.
We make taking swim lessons easy. Our private swim lessons are hassle-free at your home pool or community pool. Adults can take lessons Downtown at our location. Swim Lesson San Diego offers flexible scheduling and we don't have membership or registration fees.
Swimming lessons are a gift for a lifetime. Water safety is important for both children and adults. Children who learn how to swim are able to enjoy water activities throughout their lives. Adults who learn to swim can gain access to so much more than just being able to swim: surfing, scuba, snorkeling, SUP, the list goes on! Learn how to swim so you can be safe and confident in the water!